First month only £1 on Shared, Reseller and Dedicated Plans. Use Coupon: WELOVEYOU
LiteSpeed Web Server
All the features you love from regular Apache-based hosting, but without all the drawbacks; supercharged and tightly integrated, delivering supreme performance for your websites.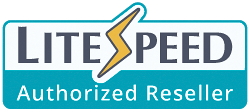 Lightspeed with LiteSpeed
Fully Apache Compatible
LiteSpeed Web Server is compatible with commonly used Apache features, including mod_rewrite, .htaccess, and mod_security. Unlike other frontend proxy-based such as NGNIX, LiteSpeed replaces all Apache functions, simplifying use and making the transition from Apache smooth and easy.
Faster PHP
A completely redeveloped specialised PHP interface means huge performance gains in simply moving your existing code to LiteSpeed.
Increase Server Security
LiteSpeed Web Server is mod_security compatible and has a host of built-in anti-DDoS features. We work constantly to address the Internet's newest security issues — such as SSL BEAST attacks — and release security updates as soon as new attack methods become known.
Increase website profit and customer satisfaction
Increased efficiency and performance, lowered hosting and support costs — all of this means increased profit for you. Your own customers benefit from quicker page loading times and you will increase sales as a result.
Native App Awareness
Popular platforms such as WordPress and Magento integrate closely with LiteSpeed to provide in-server caching, reducing the TTFB/TTLB into low double-digit milliseconds.
Faster than Apache
LiteSpeed Web Server can serve thousands of clients concurrently and with up to 16 times faster delivery means an all-round more engaging experience for your website visitors and customers.
LiteSpeed 4.2

nginx 1.4

Apache 2.2

1,000
2,000
3,000
4,000
5,000
6,000

LiteSpeed 4.2

nginx 1.4

Apache 2.2

10,000
20,000
30,000
40,000